BCS HISTORY
Most Championship Game Appearances
| School | Appearances |
| --- | --- |
| Alabama | 4 |
| LSU | 4 |
| Oklahoma | 4 |
| Florida State | 3 |
| Ohio State | 3 |
| Florida | 2 |
| Miami (FL) | 2 |
| Southern California | 2 |
| Texas | 2 |
| Auburn | 1 |
| Nebraska | 1 |
| Oregon | 1 |
| Tennessee | 1 |
| Virginia Tech | 1 |
| Notre Dame | 1 |
WELCOME
Thanks for visiting the Bowl Championship Series (BCS) official website. The BCS is one of the most successful events in the history of college football, yet it is often misunderstood. We hope the information on this site will help answer your questions and give you an accurate picture of what the BCS is and isn't.
The BCS is a five-game showcase of college football. It is designed to ensure that the two top-rated teams in the country meet in the national championship game, and to create exciting and competitive matchups among eight other highly regarded teams in four other bowl games. For more on the background of the BCS, click here.
It has been undeniably successful in achieving those goals. Thanks to the BCS, the top two teams have played each other 14 times in 14 years by BCS measurements and 11 times in the last 14 according to the AP poll -- including the last eight years in a row. Additionally, it has provided more access to the major bowls for all eleven conferences, more television exposure, and more postseason revenue than ever before.
This site is a resource for college football fans, media and others interested in how the system works. Check here often for news about the BCS and the schools, conferences and bowls.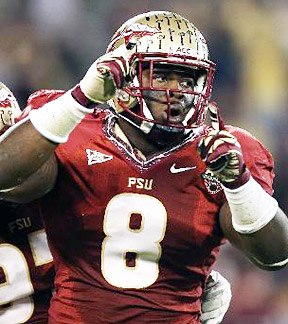 Getty Images
Worth the Wait
After two seasons as a reserve, FSUs Timmy Jernigan is relishing the starting job.
Story » ACC players to watch in 2013