We turn today to SportsCenter's 10 greatest moments in NBA conference finals history.
Of note, all these iconic dunks, steals and buzzer-beaters didn't necessarily prove to be a springboard to a title -- of the 10 moments here, only three ended up setting the stage for a title.
These plays are all a testament to greatness. Here's where they check in: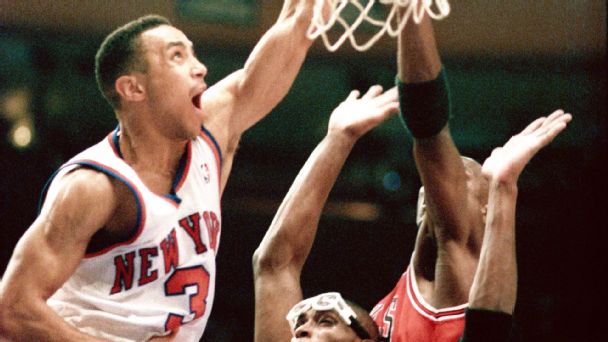 1993 Eastern Conference finals
Game 2: Bulls vs. Knicks
The Knicks didn't rack up too many highlights during their rivalry with the Bulls in the 1990s, but this is one moment forever etched in every fan's memory -- even if that memory tends to be a little hazy. Some people will refer to this as Starks' dunk over Grant and Michael Jordan, but when you watch the replay, it's pretty clear that Jordan is entirely boxed out by Grant on the slam. Still, Starks throwing down with the left hand was pretty impressive. -- Adam Reisinger
---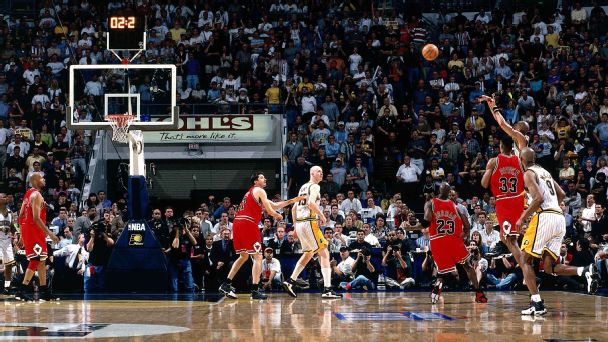 1998 Eastern Conference finals
Game 4: Bulls vs. Pacers
Yes, a Bulls team that went 6-0 in conference finals series in the 1990s ends up on the wrong end of the first two plays of this countdown (to be fair, Jordan and the Bulls saved most of their highlights for the NBA Finals). Miller was best known for tormenting the Knicks, but he threw a scare into the Bulls in this series, with the top moment being this game winner with 0.7 left on the clock. -- Adam Reisinger
---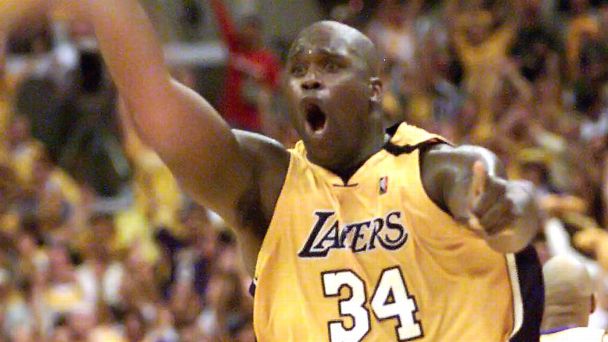 2000 Western Conference finals
Game 7: Blazers vs. Lakers
One of the most improbable comebacks in playoff history was capped by the single most iconic play of the Kobe-Shaq (or is it Shaq-Kobe?) Lakers dynasty. The play itself is impressive enough, with Kobe's floating pass perfectly setting up Shaq's massive one-handed throwdown, but Shaq's jubilant reaction lifts this play to legendary status. -- Adam Reisinger
---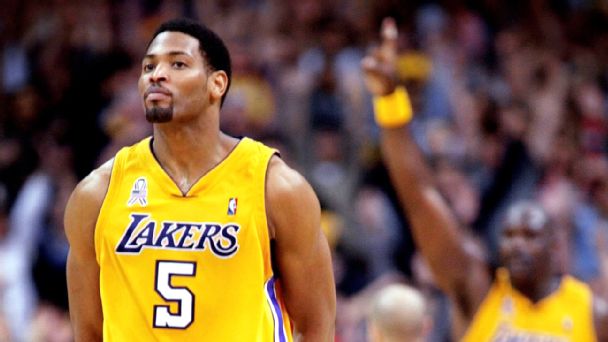 2002 Western Conference finals
Game 4: Kings vs. Lakers
Perhaps the most shocking thing about this play, looking back at the entire sequence, is that Shaq missed what would've been the game-tying putback seconds earlier. If he makes that, who knows what happens in overtime. Instead, he comes up short, Kings center Vlade Divac taps the rebound out to the perimeter -- where it lands right in Horry's hands -- and the rest is history. -- Adam Reisinger
---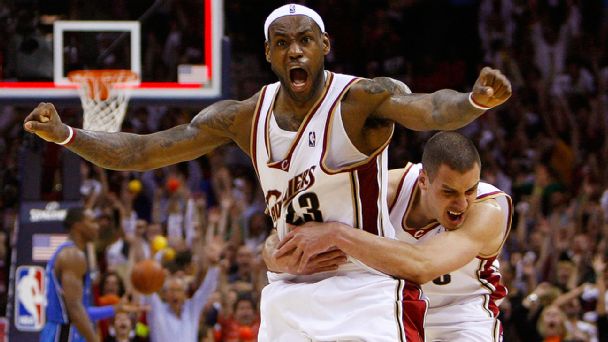 2009 Eastern Conference finals
Game 2: Magic vs. Cavaliers
In hindsight, this play didn't end up meaning much, since the Cavaliers went on to lose the series in six games anyway. But at the time, it tied the series at 1-1 and gave the Cavaliers -- and by extension the entire city of Cleveland -- renewed hope. Even after he has racked up three championships in two cities, this field goal probably remains the most iconic single shot of LeBron's legendary career. -- Adam Reisinger
---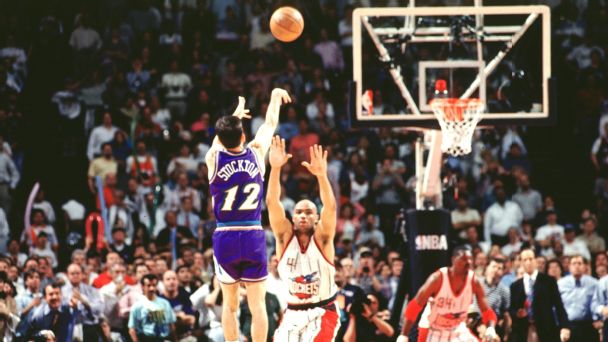 1997 Western Conference finals
Game 6: Jazz vs. Rockets
In contrast to LeBron's game winner, this shot by Stockton meant everything to the series -- the shot literally ended these finals. Known more for his passing prowess, Stockton led the Jazz in scoring in this game. The last 3-pointer of his 25-point performance avoided overtime (and a possible Game 7) and propelled Utah to its first NBA Finals appearance via a rare series-ending buzzer-beater. -- Adam Reisinger
---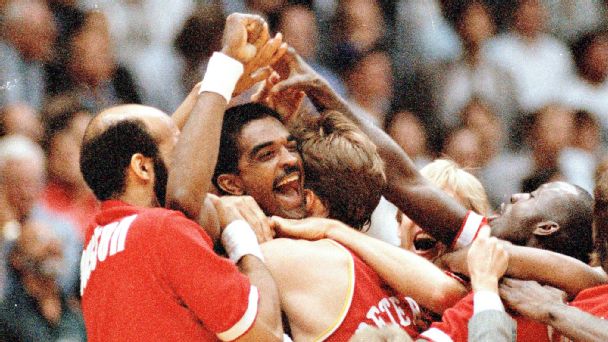 1986 Western Conference finals
Game 5: Rockets vs. Lakers
Speaking of series-ending buzzer-beaters, none has ever been more improbable than this twisting touch shot from Sampson, who put the Rockets in the Finals and denied the NBA a Lakers-Celtics trilogy. Sampson's NBA career was derailed by injuries and never quite lived up to his legendary stint at Virginia, but few players have ever had a playoff moment quite like this one. -- Adam Reisinger
---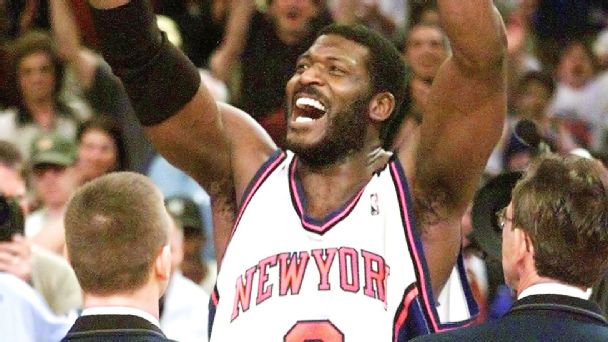 1999 Eastern Conference finals
Game 3: Pacers vs. Knicks
Depending on who you ask, LJ either knocked down a 3-pointer despite getting fouled or drew a phantom call despite a complete lack of contact. Don't bring up this play around ESPN analysts Jeff Van Gundy (the Knicks' coach in 1999) and Mark Jackson (the Pacers' point guard) unless you want to get in the middle of an endless debate. No matter who is right, the record shows the Knicks won this game and went on to win the series before falling to the Spurs in the NBA Finals. -- Adam Reisinger
---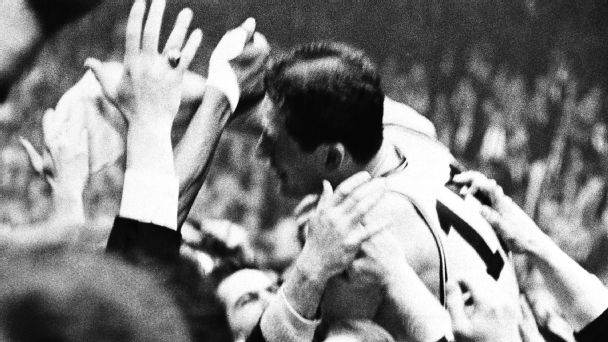 1965 Eastern Division finals
Game 7: 76ers vs. Celtics
The Celtics were the six-time defending champions, but they were pushed to the brink by Wilt Chamberlain and the 76ers in this series. Boston was leading by just a point with seconds left when Havlicek knocked the inbounds pass away. Sam Jones corralled it -- and historically doesn't get enough credit for doing so, since Philadelphia would've had a shot at picking up the loose ball if he hadn't been there -- and then dribbled out the clock as fans poured onto the Boston Garden floor. The Celtics headed to the NBA Finals for the ninth consecutive year. -- Adam Reisinger
---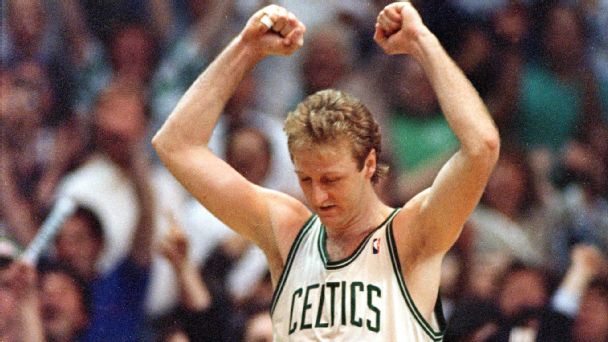 1987 Eastern Conference finals
Game 5: Pistons vs. Celtics
There are layers to the greatness of this play. First, there's Bird's steal itself, where he seems to appear out of nowhere to get between Isiah Thomas' inbounds pass and Bill Laimbeer. Bird then manages to stay inbounds and turn toward the court, where he finds teammate Dennis Johnson, who took advantage of the chaos to streak from the 3-point line to the basket almost uncontested.
Without the steal and subsequent layup, the Celtics likely would have fallen behind 3-2 to the Pistons, with Game 6 in Detroit. Instead, Boston went on to win the series in seven games before losing to the Lakers in the NBA Finals, in what would be the Celtics' last Finals appearance until 2008. -- Adam Reisinger