The New England Patriots have a problem that just about every other team in football would love: They have a talented young quarterback and a Hall of Famer in his way.
Jimmy Garoppolo was magnificent in six quarters of action this season, upsetting the Cardinals in Arizona and slicing apart the Dolphins for a half before suffering a shoulder injury that is likely to keep him out Thursday night against the Texans. Even if he makes it back next week, Garoppolo is sure to give way the following week to Tom Brady, who will handle the starting duties the rest of the way, barring injury or a remarkable decline in performance.
So, then what? When the season ends, the Patriots will most likely have a superstar quarterback entering his age-40 season with no public intentions of retiring and one entering his age-26 season with one year left on his rookie contract (and worth a lot in trade value). Now, nobody has moved on from his team's stars more ruthlessly than Bill Belichick -- and almost without fail correctly, too -- but he can't do that to Tom Brady, right?
Right??
And if you keep Brady, then, what do you do with Garoppolo? It's a fascinating question, and I'm not sure there's a right answer. But there are scenarios. Let's run through the context by answering some questions, and see whether we can gain any insight into the bigger picture and the future of the Patriots. Starting with the really, really short term ...
Would playing Thursday night have been worth the risk?
We now know Garoppolo isn't expected to suit up, but let's give a little background. Reports suggest Garoppolo has a sprained AC joint in his throwing shoulder, which is an incredibly painful injury. Other reports have suggested that the Patriots were pressuring Garoppolo to be available for the game -- that's obviously not the case -- noting that Brady has played through a similar injury in the past.
Brady most recently played through a sprained AC joint (also known as a separated shoulder) during the 2011 playoffs, but that was in his nonthrowing shoulder. Brady suffered a first-degree separation of his shoulder in December 2002 and played through it, but it didn't go well. Brady posted a passer rating of 91.7 in the 13 games before separating his shoulder. He separated his shoulder in Week 15 and put up a passer rating of 59.2 over the final three games of the year while also suffering a second-degree shoulder separation in Week 17. Brady then subsequently underwent shoulder surgery in 2004.
It's possible to play through a sprained AC joint at a certain level of severity, as Ben Roethlisberger did during the 2015 playoffs, but it would have been shortsighted and foolish in this case. Even if Garoppolo comes back for Week 4, the Patriots are almost surely better off going with Jacoby Brissett on a short week. Now, if Brissett gets hurt and the Pats have to go to Julian Edelman under center, that might be another question. I suspect the Patriots at least wanted the Texans to think there was a shot Garoppolo would play Thursday night, if only to give them something else to think about in practice this week.
Has Garoppolo really played that well?
Brilliantly, in fact. Better than anybody could have realistically expected. Through two weeks, he leads the league with a 91.1 QBR, more than seven points ahead of second-placed Matt Ryan. He has completed more than 70 percent of his passes and averaged 8.4 yards per attempt, throwing four touchdowns without tossing a pick. And perhaps most impressively, Garoppolo has done all of this without the best player on the roster, Rob Gronkowski, who has missed the first two games with a hamstring injury.
Garoppolo's statistics are backed up by a closer look at how he has performed on tape. I wrote about his performance against the Cardinals after Week 1, but against a lesser opponent in Miami, Garoppolo looked like a seasoned veteran. The biggest concern for an inexperienced quarterback will always be finding out how he handles blitzes and pressure, and Garoppolo passed that test in Week 2 with flying colors. The Dolphins blitzed him on 37.0 percent of his dropbacks and got pressure on 40.7 percent of Garoppolo's pass plays, a higher percentage than any other quarterback in football faced last week.
While the third-year quarterback naturally had moments where he struggled to account for the pressure -- he shifted a protection to move James White away from where the blitz eventually arrived, as an example -- he was calm and collected in a way that other veteran quarterbacks with far more experience struggle to emulate. He didn't have the sort of preternatural footwork and feel for the rush in and around the pocket of a 15-year veteran like Brady, but Garoppolo rarely panicked, even when there was a free rusher in his face or Marcus Cannon locked up and needing a reboot.
Watch Garoppolo's first pass of the game, where a rusher comes clean and Garoppolo doesn't flinch while finding Edelman for an easy first down. That's a sign of Garoppolo's toughness, but even more so, it's a measure of his discipline. There are plenty of guys in the league who feel that defender bearing down on them and try to escape the pocket to get away. Garoppolo kept his eyes upfield. That weighs on the minds of defensive coordinators: If you can scheme to get a guy totally free with a blitz and the quarterback doesn't care, what can you do to rattle him?
Garoppolo did get plenty of help from offensive coordinator Josh McDaniels, whose second stint as a head coach is surely coming sooner rather than later. After picking apart overmatched Cardinals cornerback Brandon Williams in the opener, McDaniels cooked up a scheme designed to stretch Miami's linebackers, notably weakside linebacker Jelani Jenkins, who was coming off of an August knee scope and was walked around the middle of the field by New England's receivers.
McDaniels does a great job of showing one look early in a game and taking advantage shortly thereafter by playing off of that concept with an adjustment. On the first drive of the game, he set up a play-action pass that amounted to a screen, with Martellus Bennett sprinting horizontally across the formation away from the play fake behind a pair of wide receivers blocking downfield. (If you think this is offensive pass interference, well, you're not wrong.) It went for 26 yards when Reshad Jones took a bad angle to Bennett and was tripped up by a fallen Jenkins.
On the first play of New England's second drive, McDaniels showed the same look, drawing three Dolphins defenders toward Bennett, only for Garoppolo to drop an easy crossing route over their heads to a wide-open Chris Hogan for 19 yards. Later on, the Patriots went play-action and managed to get three receivers wide open: Bennett, who ran past an overpursuing Jenkins (who then slipped trying to catch up) on a shallow cross; Edelman; and special-teams star Matthew Slater, who torched Xavien Howard on a deep post. Garoppolo passed up the easy completions to go for the glory, but he overthrew an open Slater by a couple of yards.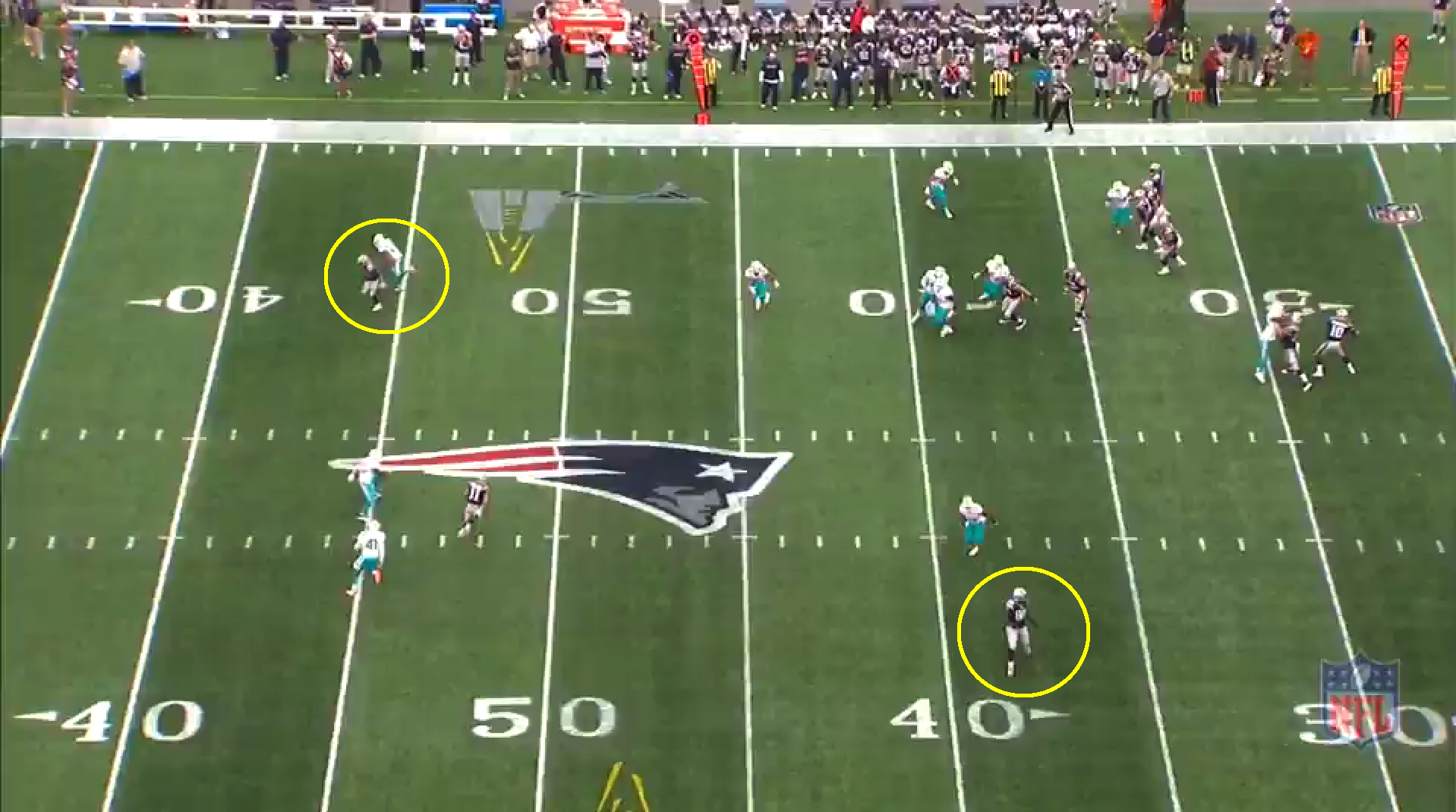 What McDaniels has done without his stars has been downright impressive. Without Gronkowski and his formidable blocking skills, the Patriots have gone with three-wideout sets more frequently than they likely intended after acquiring Bennett. Instead of bringing on a lesser tight end to telegraph running plays, they've motioned Edelman into the backfield almost as an H-back and used him as a lead blocker alongside Bennett at times. They've used RPOs (run-pass options) designed to give Garoppolo simple one-read decisions from the shotgun. Garoppolo has contributed plenty, but McDaniels' ability to scheme at his opponent's weaknesses should be of some comfort to Patriots fans who are worried about Brissett on Thursday night.
So ... what happens after 2016?
Here's where it gets juicy.
In a perfect world, the Patriots would hold on to Brady until he's no longer interested or able to play and move on to Garoppolo, who would hold the job for a decade. There's a chance it breaks that way, but the NFL is not a perfect world. For contractual reasons, it's far more likely that the Patriots have to make a move with Garoppolo before Brady's time is up, one conspiracy theory aside.
Let's start with the current starting quarterback. Before this season, Brady renegotiated his deal to drop his base salary while paying him a $28 million signing bonus. The move was seen as a way to reduce Brady's financial exposure to a four-game suspension, but the structure also revealed that Brady isn't going anywhere anytime soon. If Brady is not on the Pats' roster in 2017, his cap hit would rise from $14 million to $27 million in dead money, making the idea of Brady retiring or leaving the team a nonstarter. It's feasible in 2018, when the Patriots could cut his cap from $22 million to $14 million in dead money if he left, but the more plausible likelihood is that Brady is off the roster in 2019, when his cap hit would fall from $22 million to $7 million. (And if he's still on the roster by then, chances are the Pats will have renegotiated his deal.)
Garoppolo's deal is much simpler. He's in the third year of a four-year rookie contract that will occupy just $1.1 million of New England's cap in 2017. After that, he will be an unrestricted free agent with no fifth-year option, given that Garoppolo was a second-round pick. The Patriots do as impressive of a job managing their cap as any team in football, but money is getting tight with their young defensive core coming up for extensions this offseason.
What would Garoppolo get on the open market as a free agent? My answer to this question a year ago would have been a bunch of question marks, but we have a useful reference point now, and it's the quarterback the Patriots will face on Thursday: Brock Osweiler, who hit free agency at 26 after 305 league-average pass attempts spread over four years. Osweiler picked up a four-year, $72 million deal that really boils down to two years and $37 million in guarantees from the Texans. It's too early to say whether Houston will end up being happy with its purchase, but Osweiler basically got league-average starter money with a limited track record.
We don't know what Garoppolo will do over the next two years, but if he doesn't take another snap, he'll hit the market with 91 pass attempts of excellent game tape and superstar-rate statistics. He has posted a 108.6 passer rating on those throws. The sample size is smaller than Osweiler's, but he has played at a much higher level on the attempts he has made. I think it would be fair to say that teams would roughly value him at around the same level as Osweiler. With two years of salary-cap inflation on the books between the 2016 and 2018 free-agent periods, it's not crazy to imagine Garoppolo looking at two years and $40 million or so in guarantees as part of a longer-term deal, just based on what he has done already.
That's a prohibitive sum for the Patriots and their cap situation; they just can't pay Brady $22 million of their cap in 2018 and throw Garoppolo another $20 million as a backup. The natural follow-up for Pats fans is to hope that Garoppolo follows in Brady's footsteps and takes less money to try to build a better team, but the context is very different. By the time Brady was deliberately taking notably smaller deals than he could have extracted, he already was a national superstar, had millions of dollars in sponsorships and, crucially, had made it through multiple contract extensions. There's nothing in the reports about his 2002 contract or his 2005 extension to suggest that he was getting anything less than market value. This might be Garoppolo's only shot at getting the sort of money that guarantees him lifetime financial security. It would be professionally irresponsible and imprudent for Garoppolo and his agent to take even upper-tier backup money, which would then be in the $8 million range, in the early years of Garoppolo's next extension.
Garoppolo's agent, by the way, might be the key to making this all work with the Patriots. His name is Don Yee. His most famous client, of course, is Brady. It's in Yee's interest to keep both Brady and Garoppolo happy, and it's in the Patriots' interest to have one of them under center for as long as possible. The chances of an orderly transition are higher than they would be with competing agents, and the Patriots already have a healthy enough relationship with Yee to make the act of negotiating a bit easier.
At the end of the day, though, it's hard to believe that Yee would advise his client to leave $20 million in guaranteed money of his second contract on the table to stay with the Patriots. The best thing for Garoppolo is going to be to start regularly for a team paying him a lot of money. And the Patriots might not be able to offer either end of that bargain anytime soon.
What if the Patriots decide to move on from Garoppolo?
Here's where we have to really start guessing. If the Patriots don't want to pay Garoppolo what he would make on the free market (or close), or if they think they can do better with a different long-term Brady replacement, or if they really think Brady will play until he's 45 years old, they'll either trade Garoppolo or let him leave as an unrestricted free agent. The question then becomes a matter of how much different sorts of compensation are worth to New England.
If Garoppolo hits unrestricted free agency before the 2018 season and gets the sort of contract I mentioned above, he will almost surely net the Patriots a third-round compensatory pick in the 2019 draft. In addition, by holding on to Garoppolo, the Patriots also would get one additional year in 2017 of an above-average backup at a huge discount on what it would cost to procure a quality veteran backup (about $6 million per year), let alone a worthwhile starting quarterback. That's our baseline return for the Patriots.
The other alternative is to trade Garoppolo after this season, with a year to go before free agency, to a team in need of a starting quarterback. That is a group that is likely to include the Jets, Browns and 49ers, with secondary options such as the Bears, Dolphins and Washington as possible suitors. These teams would be trading for Garoppolo on a one-year deal at about $900,000. Instead of paying Garoppolo that one-year deal, though, the teams would be likely to use it as leverage to negotiate a new long-term deal for a smaller amount of money than what Garoppolo would have picked up as an unrestricted free agent.
Those trades were in popular fashion years ago, although the rookie cap has since capped first contracts for players. While several current starting quarterbacks were acquired via trade, none were acquired under similar circumstances to Garoppolo, as a buy-low opportunity for a player who has looked promising as a backup on a rookie deal. The closest current example, I suppose, would be Blaine Gabbert, and Gabbert doesn't really compare in terms of style or career path.
You have to look at the recent past for comps, and there are a few. Matt Cassel is the most obvious one, as the only drafted Patriots quarterback to deliver a meaningful return after some impressive performances on a rookie deal. Cassel took over one of the best offenses in league history and struggled early before settling in, with the 16-0 Patriots falling to 11-5 despite returning the vast majority of the other starters from the previous year. His numbers were right around league average after adjusting for era. With Cassel about to hit unrestricted free agency, they sent veteran linebacker Mike Vrabel with Cassel to Kansas City and picked up the 34th overall pick in that year's draft, a high second-round pick.
The Texans found their quarterback when they made a deal with Atlanta for Matt Schaub, who had thrown 161 passes over his first three seasons at a much less impressive rate than Garoppolo. Schaub had as many touchdown passes as interceptions (six). They swapped the eighth pick with Atlanta for the 10th overall selection and also nabbed two second-rounders for their troubles. According to Chase Stuart's draft pick value calculator, in valuing those picks as mid-second-rounders, Houston sent 39.7 points of value and received just 21.4 points of value in return. That 18.3-point difference is roughly equivalent to the 13th pick of the draft on its own. They also gave Schaub a six-year, $48 million deal the following day.
Looking back further, you would have to head toward Matt Hasselbeck, whom the Seahawks acquired in 2001 by dealing the 10th and 72nd selections in exchange for the 17th pick and Hasselbeck. This valued Hasselbeck as being worth the 42nd pick, which is a mid-second-rounder. Hasselbeck eventually became a star in Seattle, but at the time, he had thrown just 29 pass attempts in three seasons in Green Bay. As a sixth-round pick, he was far more of a flier than a second-rounder like Garoppolo.
Just based on the evidence, and given the existence of a quarterback market that valued an average-to-worse veteran on a market deal like Sam Bradford at the level of a first- and fourth-round pick, I suspect the Patriots would have little trouble getting a first-round pick's worth of value for Garoppolo. That might not come as a first-rounder from a team selecting in the upper half of the draft -- the Patriots might have to take it as a pair of second-rounders from a team like the Browns -- but Garoppolo's team-friendly contract (and long-term contract leverage) and level of play make him a valuable commodity.
For the Patriots, only they can know whether it would be better to take a first-round pick for Garoppolo now or a third-rounder in two years. It will depend on a lot of things that have little to do with Garoppolo. They have a better idea of whether Brady is really going to make it to 45, or if Brissett can be a useful backup quarterback for four years on the cheap.
The reality is this: If they keep Garoppolo past 2017, it will almost definitely have to be as part of a clear succession plan for Brady. You simply can't pay two really good quarterbacks. And even given how great Garoppolo has looked in limited time this year, the idea of a Patriots team without Brady for an entire season is still plenty scary for Pats fans.