Ezekiel Elliott has been great for the vast majority of the 2016 season, but Sunday marked the moment his MVP campaign kicked into full swing.
Elliott scored three touchdowns in the Cowboys' dramatic 35-30 win over the Steelers on Sunday, including two in the final two minutes of action. In addition to two rushing scores, he added in an 88-yard touchdown on a screen and finished the day with 209 yards from scrimmage. As many have pointed out, he's one of just three rookie backs to rush for 1,000 yards in his first nine professional games, joining Adrian Peterson and Eric Dickerson.
And yet, as great as Elliott undoubtedly is, I keep going back to a number from ESPN Stats & Information. Do you know how many times Elliott was even touched by a Steelers player on his three touchdowns?
Zero.
Elliott traveled 129 yards from scrimmage on those three plays and never even had to beat an unblocked defender one-on-one. Zeke showed great patience in hitting his hole and accelerating past the flat-footed Robert Golden on his final score, and the Steelers might have been trying to allow Elliott to score on his second touchdown, but one would think Elliott would run into a Steelers defender just based on sheer electric football chance.
There's a third actor in this discussion, and it's the reason Elliott went untouched on those plays. The Dallas Cowboys' offensive line is as dominant as any unit or any individual player in football on a week-to-week basis. Despite losing La'el Collins to a foot injury, Dallas' five-man gang of Tyron Smith, Ronald Leary, Travis Frederick, Zack Martin and Doug Free has been the backbone of an offensive renaissance in Dallas. The Cowboys are averaging 28.7 points per game, the fourth-best rate in the league, while starting a rookie fourth-rounder at quarterback and missing their star wideout for a large portion of the season. The offensive line is making everybody on this offense look great. They, collectively, deserve serious consideration as league MVP.
The question you're probably asking at the end of that paragraph is fair: Can an offensive line actually win the league's most valuable player award as a crew? The answer isn't entirely clear. The idea was broached several years ago when the Giants had an offensive line which was worthy of similar consideration.
Several entities actually hand out MVP awards, but the most familiar one is The Associated Press' award, which is revealed as part of the NFL Honors ceremony in February. I asked several members of the electorate whether they would be allowed to vote for positional groups, and while none had in the past, there's apparently nothing in the rules against voting for an entity like the Cowboys' offensive line over an individual player. That's enough for us to consider the possibility.
I hesitate to say that a group of offensive linemen will never win the MVP award -- after all, a kicker won the trophy in 1981 -- but the odds are stacked against any offensive lineman getting the credit he deserves, if only because the NFL is terrible at honoring linemen. This isn't a media issue, either. When NFL players voted for this year's Top 100 Players list, they ended up including more running backs (10) than offensive linemen (seven) in a game in which teams routinely line up one back behind five linemen. The league pays lip service to the importance of the game in the trenches, but everything else has to go right for a lineman (or linemen) to even garner passing attention for a major award.
This is that year. There's no obvious MVP candidate: My favorites heading into last week were Tom Brady and Matt Ryan, both of whom had off nights during their respective teams' Week 10 losses to Seattle and Philadelphia, respectively. J.J. Watt, the perennial Defensive Player of the Year candidate, is out for the year, and there's no other transcendent defender sticking out from the pack. Julio Jones deserves consideration, but Elliott is now 75 rushing yards ahead of second-place back DeMarco Murray and 42 yards ahead of David Johnson in the yards from scrimmage race. He's the most productive player on the league's winningest team, with the Patriots' loss ensuring that Dallas makes it to Week 11 as football's sole club with eight wins.
Elliott is playing his part in the symphony. Among backs with 100 yards or more, Elliott is ninth in the league in average yards before first contact (2.91) and then fourth in the league in yards after first contact (2.16). He has exhibited excellent patience in waiting for his holes to open and elite acceleration when they do clear; many young backs possess the latter, but precious few have the former, especially during their debut season.
He's also being provided with the sorts of running lanes backs dream about getting on a weekly basis, which is why the word "untouched" comes up a lot after he scores touchdowns. Still images can be misleading, but these are as in-context and fair as I could make them. Let's look at the holes Elliott hit for his two rushing touchdowns against Pittsburgh on Sunday. Here's the first one, which again may have been with the Steelers allowing Elliott to score in an attempt to get the ball back: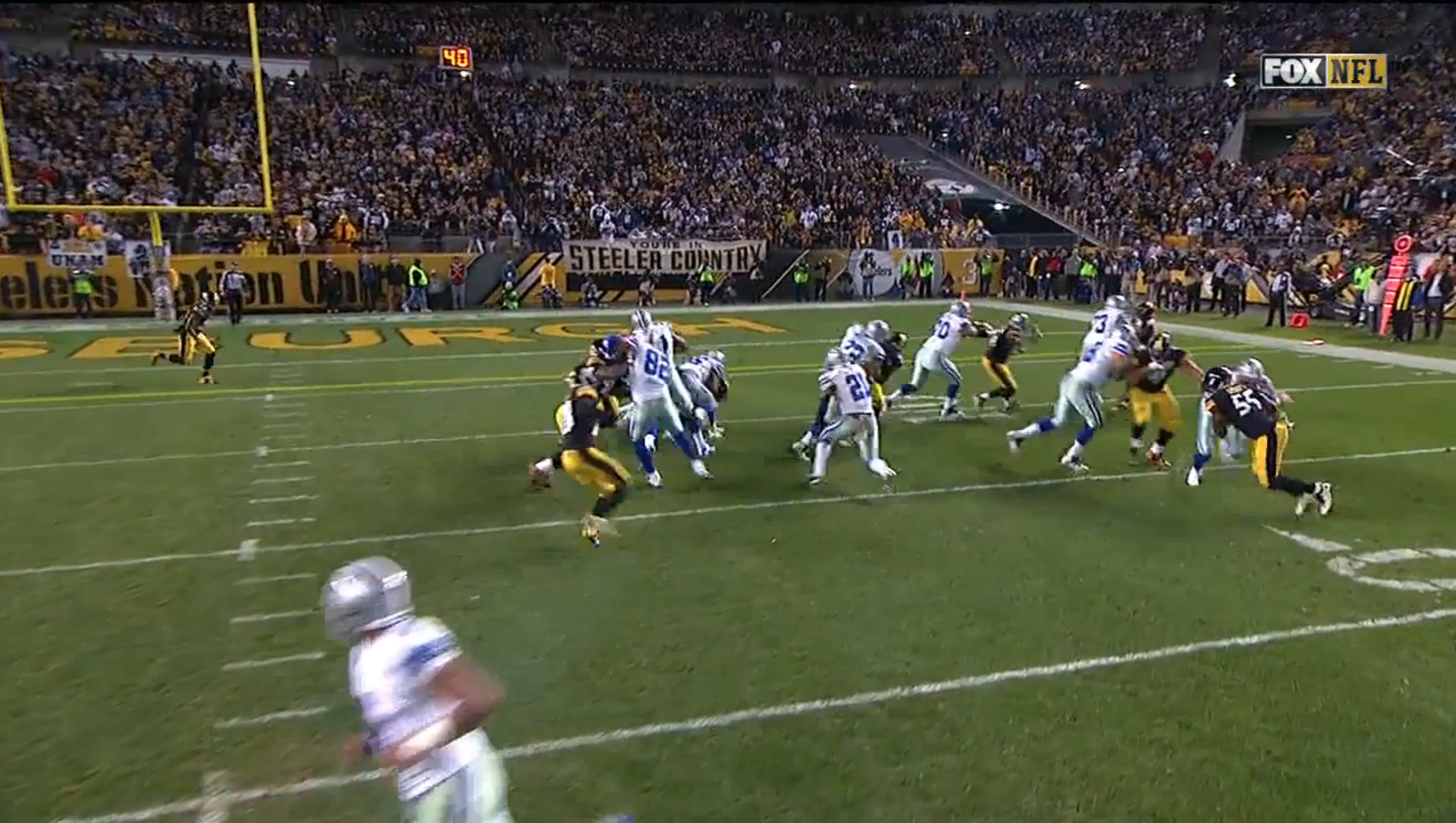 There's no safety lurking behind the pile of linemen there, just free room for Elliott to roam. Dak Prescott checked into this play at the line of scrimmage, "killing" the pass play called and going instead with a run, and his linemen maul the Steelers. Frederick sustains his block on the nose tackle and pushes him yards to the right, creating the hole for Elliott. Both guards -- Leary and Martin -- get to the second level, with Leary disappearing for a moment before emerging from the void to pancake Ryan Shazier. There's no hope for the Steelers on this play. There wasn't much of one on the next touchdown, either: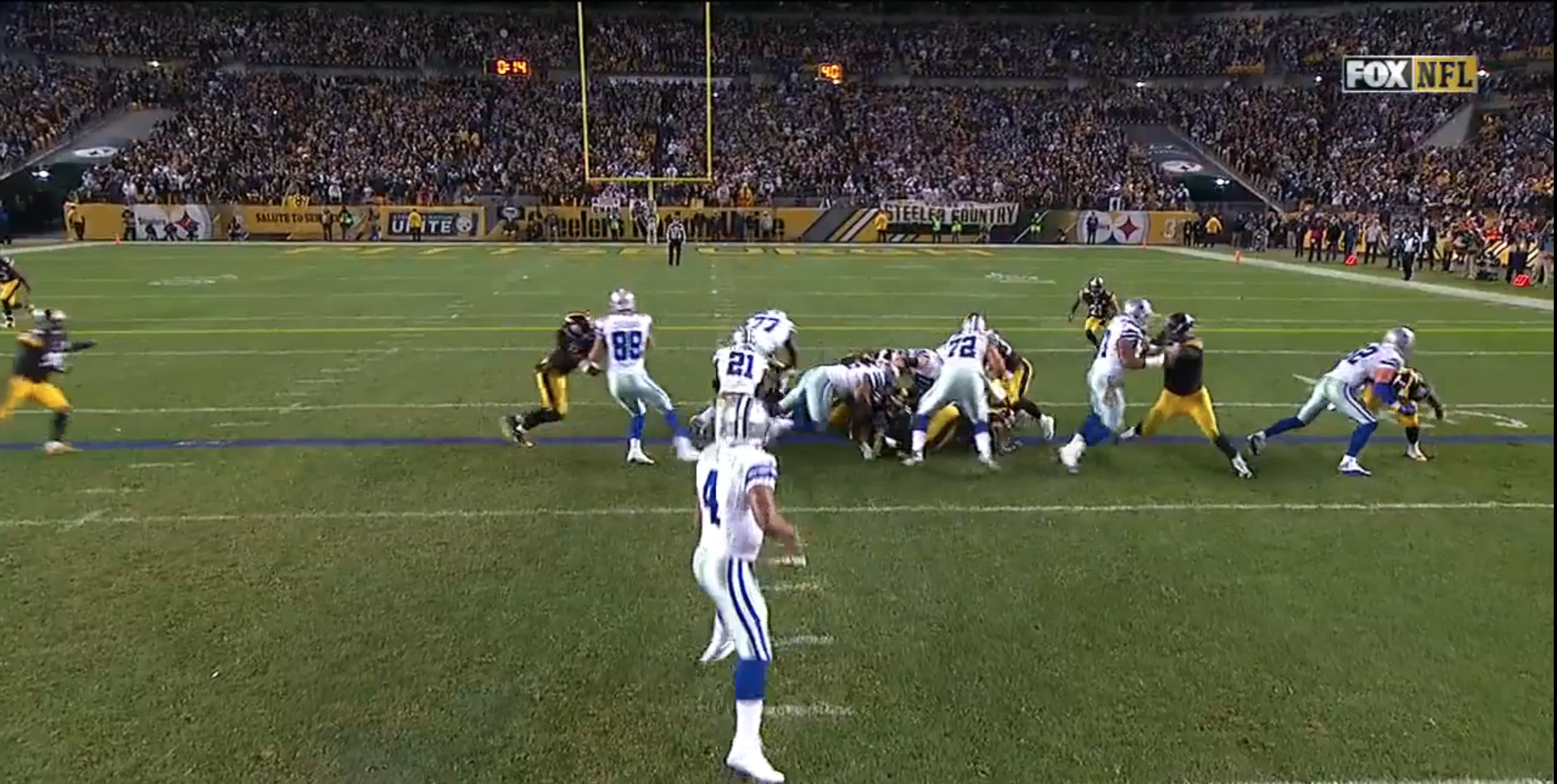 Elliott's about to cut behind Smith and burst upfield, where the closest Steelers to him who aren't on the ground are 2 yards away and either not moving or moving in the wrong direction. Lawrence Timmons tries to penetrate through the A-gap at the snap, only for Frederick to come out of his stance quickly and push him aside. Smith and Leary cave in the right side of the Steelers' front, with Leary driving down nose tackle Javon Hargrave and Smith pancaking Shazier, eliminating the guys with any hope of tackling Elliott at the second level. Tight end Gavin Escobar seals off Jarvis Jones from the edge, and while the Steelers send cornerback Sean Davis on a run blitz out of the slot, he tries to run into the backfield and only turns upfield as Elliott is running by him. Elliott's acceleration comes in handy here -- a lesser back might have been caught from behind -- but the Cowboys basically give him a direct path to the end zone.
I've seen every Elliott run this season, but I went back and specifically watched his touchdowns to see whether this was a frequent pattern. It is. "Untouched" isn't the right word, and he has had a couple of short-yardage plunges, but the vast majority of the resistance against Elliott on his scores have come within steps of the end zone. Elliott has really had to make only two defenders miss otherwise on his scores, and they were both defensive backs in the Browns game, when Elliott chose to cut outside on running plays.
Let's look at some more offensive line magic. Elliott had a 1-yard plunge for a score in the Niners game, but it was set up on the previous play, in which he ran for 17 yards with a hole big enough to literally fit three Ezekiel Elliotts with room to spare: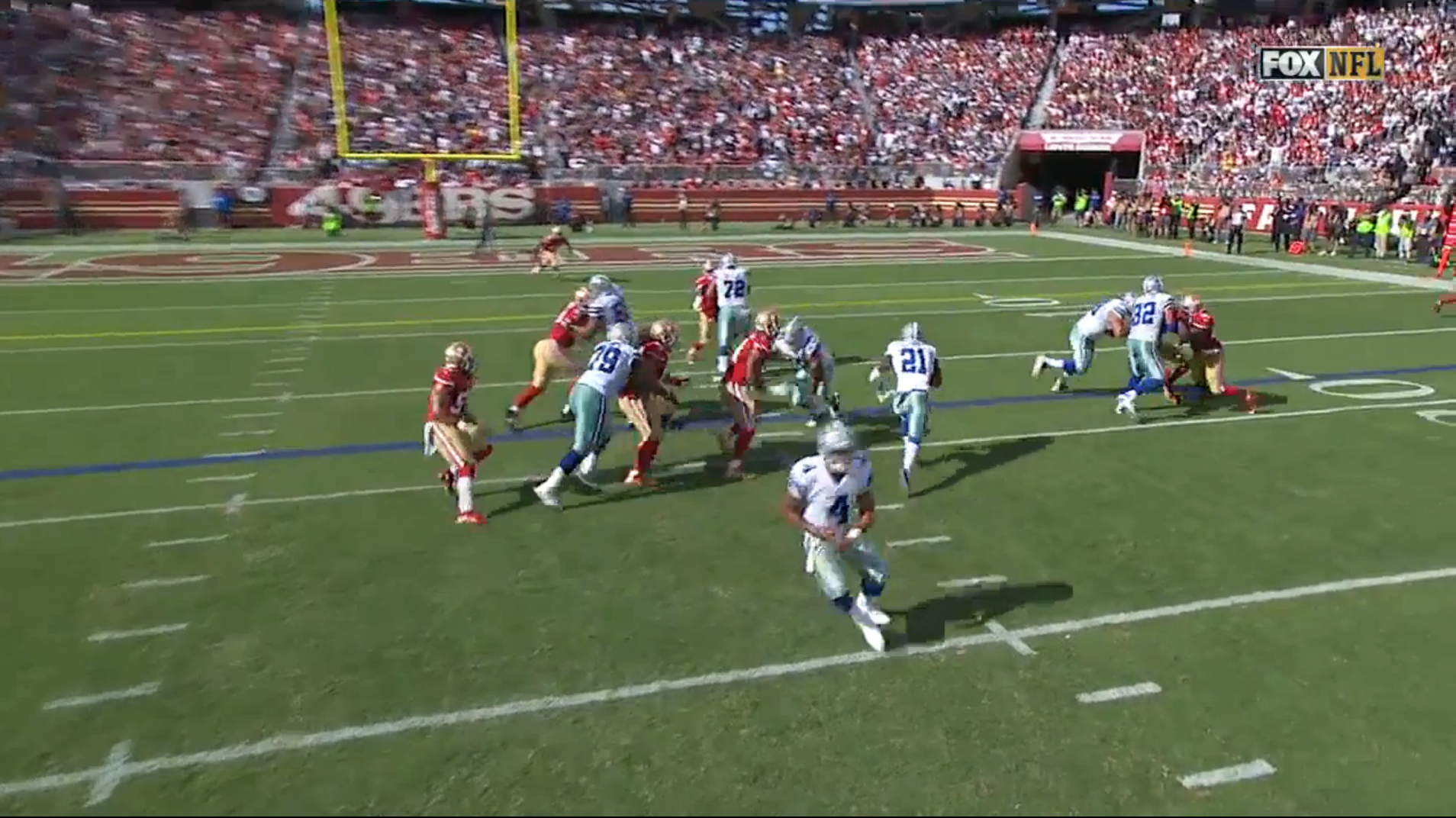 He scored twice in the Bengals game. Here, on Elliott's first touchdown of the day, the Cowboys fold him a nice little crease for a 13-yard score: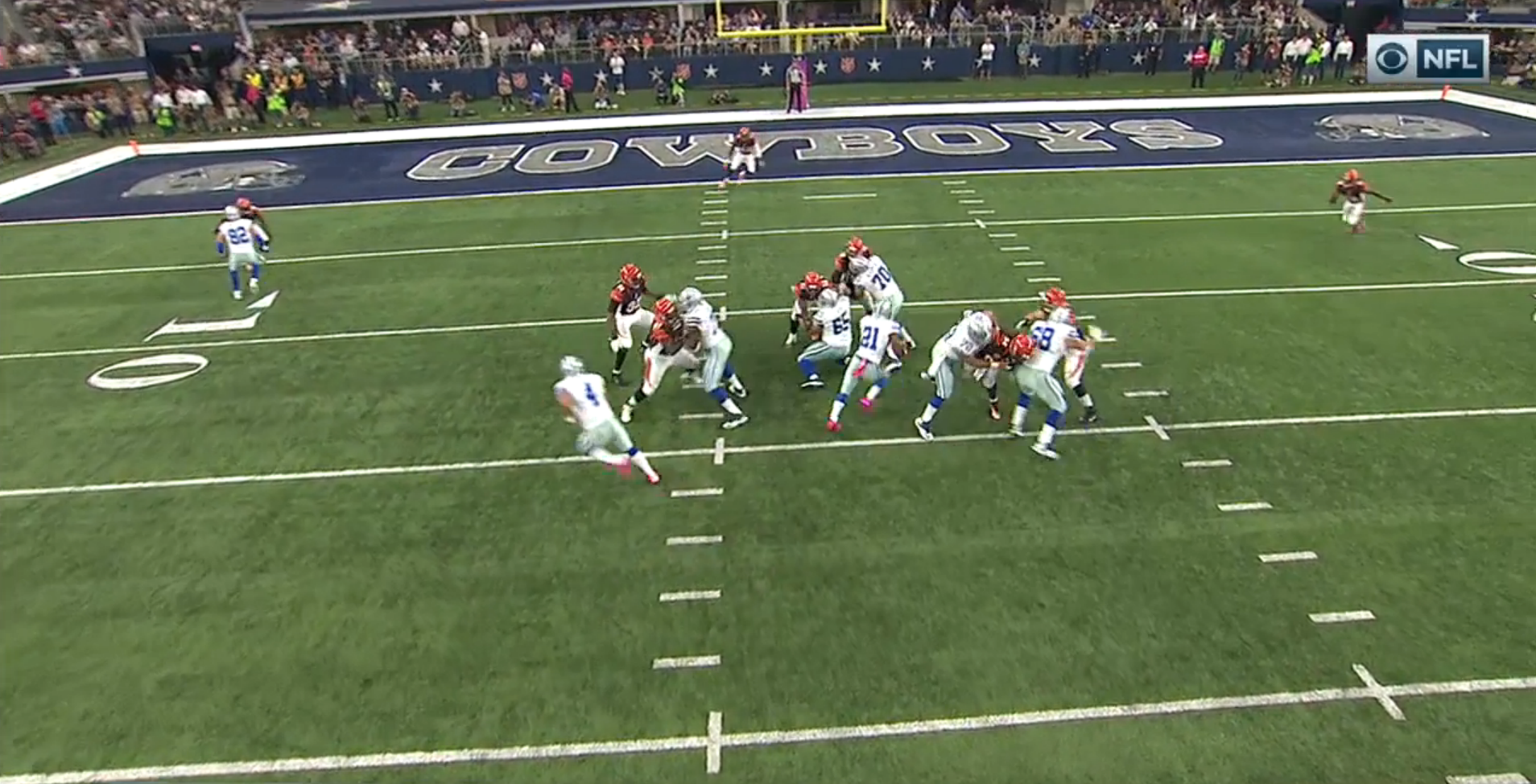 The bigger one came later, when Elliott ran untouched for a 60-yard touchdown up the middle. This one is a little more difficult than the still image indicates, as Geno Atkins snuck past the guards and penetrated into the backfield, but Martin does enough to shield Atkins from Elliott, who makes a quick cut immediately after getting the ball to eliminate Atkins from the play. From there, Zeke has a Texas-sized expanse to enjoy: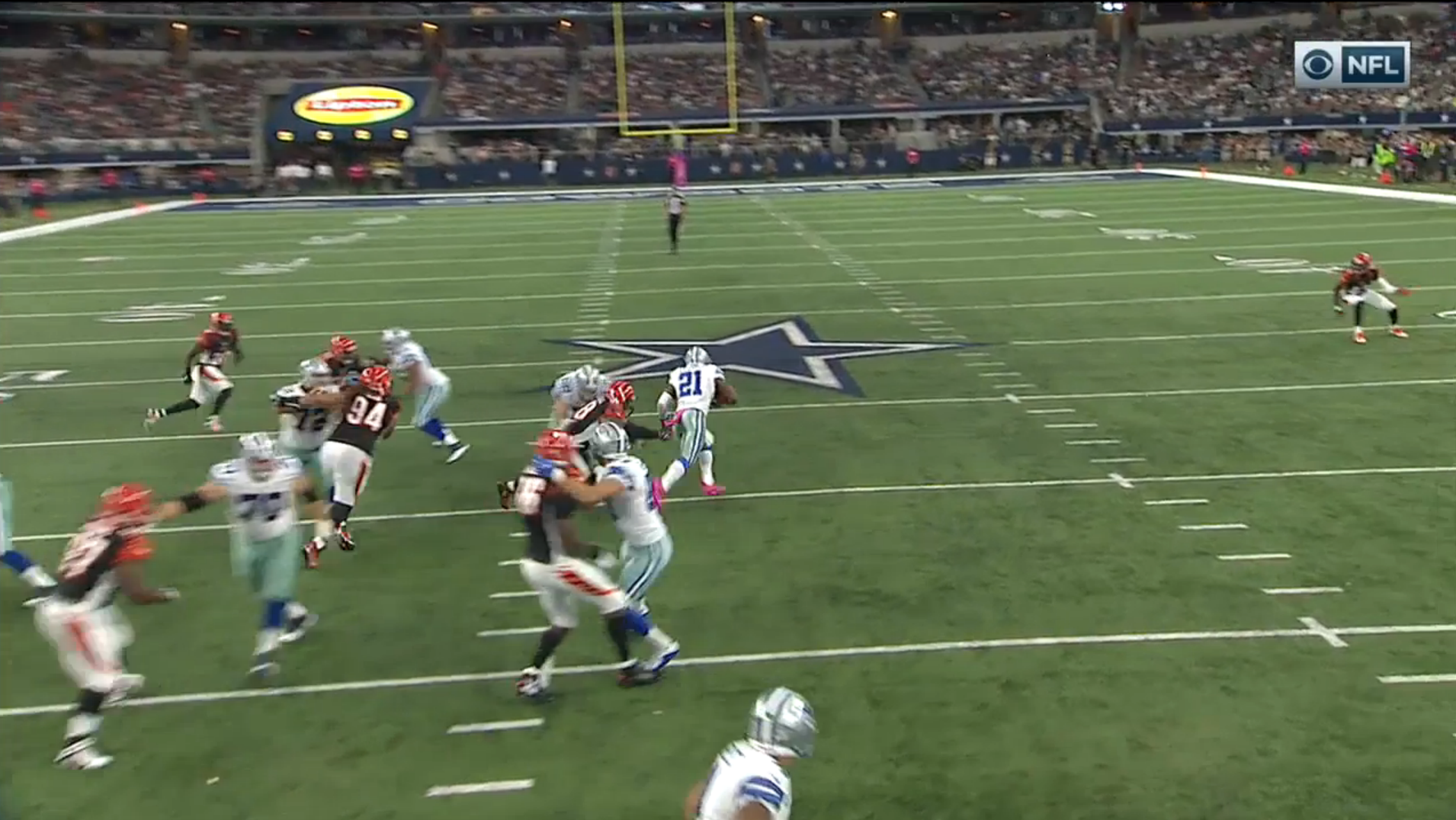 Elliott also shows off his wheels here by accelerating right past George Iloka, who sprints to the spot where he thinks Elliott will be, only to find that Elliott was there a half-second earlier. A replacement-level back -- or even a league-average back -- can't do that. And there are Elliott runs in which he does make people miss, of course. Here he is breaking a tackle in the hole against the Packers for 29 yards. For every run like that, though, there's seemingly one like his 23-yarder against the 49ers, in which Elliott patiently waits for Martin to clear out a parking spot before he sprints forward. Elliott deserves credit for setting up the block and selling that he wants to go outside before cutting upfield, of course, but there's a path being plowed for him along the way.
It's not just what they're doing with Elliott, either. The offensive line has done an incredible job in creating a comfortable space for its rookie fourth-round pick, Prescott, to operate. The track record of midround picks as rookies is abysmal, often because they're forced to make decisions under pressure and usually choose poorly. Prescott hasn't had those problems. The Cowboys have allowed him to spend an average of 2.47 seconds in the pocket before making his throws, which is second in the league behind Tyrod Taylor in Buffalo. Prescott's average throw has come after 2.73 seconds, which is the fourth-longest rate. And while passers around him in those rankings such as Taylor, Aaron Rodgers, Andrew Luck and Cody Kessler all have sack rates at or well above the league average of 5.6 percent, Prescott is going down on just 4.3 percent of his dropbacks.
Dallas' previously unheralded rookie signal-caller has been great without having Dez Bryant, his best wide receiver, for a good chunk of the season. Again, as is the case with Elliott, Prescott deserves some of the credit. The Cowboys had mostly the same offensive line last year and weren't able to throw the ball with Matt Cassel and Brandon Weeden under center for most of the year, even given how well they pass-protected. At the same time, though, this unit made Darren McFadden look like a great back in 2015, as the former Raider averaged 4.6 yards per carry after mustering just 3.3 yards per attempt in his three previous seasons in Oakland. And they were the focal point of Murray's breakout season in 2014, helping pave the way for him and Tony Romo to enjoy a 12-4 campaign.
Murray has been resurgent this year, which actually adds to the aura of what Dallas did in 2014. Murray looked like a monster in Texas and promptly fell to replacement level last year in Philadelphia, as a change in scheme and a far inferior offensive line took their toll during his lone season with the Eagles. Traded to Tennessee, Murray has refound his form behind another great offensive line built around first-round picks. Chance Warmack hasn't really panned out and is on injured reserve, but the Titans found a pair of stars at tackle with top-11 picks Taylor Lewan and Jack Conklin before making an underrated addition in free agency with Houston center Ben Jones. Lewan was ejected from Sunday's blowout win over the Packers, but this unit has done an incredible job all year of creating holes for Murray and protecting Marcus Mariota, who is looking like a franchise quarterback again.
And they're not the only ones being defined by the guys up front. Look at the most surprising team in the NFL outside of these Cowboys: The 7-2 Raiders focused their rebuild around the offensive line, choosing to spend gobs of money in free agency in lieu of draft picks. Detroit, now in first place in the NFC North, has three first-rounders and four third-rounders, all on rookie deals, in their offensive line rotation.
There are also clear examples of how line play has had a negative impact: The Vikings have gone from 5-0 to 5-4 once their defense stopped forcing takeaways and their offensive line collapsed under injuries and subpar play. Minnesota has been unable to run the ball all year, and over the past four games, Sam Bradford has been sacked on a league-high 9.2 percent of his dropbacks, including two of the final three offensive snaps in Sunday's loss to Washington. If there was ever one, this would be the Year of the Offensive Line.
It's tough to talk about this topic in relation to Elliott (and to a lesser extent, Prescott) because it's perceived as a slight. It's too easy to make this a binary argument, in which Elliott is either a fraud who is entirely a product of his offensive line or a running genius who would excel behind a blocking sled. Neither argument is fair to any of the parties involved.
It's more nuanced. Elliott is not Walt Weiss or Nick Hundley during their days with the Colorado Rockies, taking advantage of the thin air to look like a professional hitter. He's Larry Walker or Nolan Arenado, a genuine talent placed in the best possible situation for a player to look great.
Elliott would be good -- and potentially great -- in other places, although the Murray example in Philadelphia gives us reason to wonder whether any back at all is situation- or line-proof. That alone is an argument against picking a running back to win league MVP. As good as a back like Murray or Elliott can look, we know that they're too dependent upon scheme and surrounding talent to be the most valuable player in the league. In Dallas, we're quickly seeing that the offensive line can do wonders regardless of who takes the football behind it.
Frederick and the Dallas O-line aren't scheme-dependent. They are the scheme.